Hello ,hello.
So I am still in process of moving into our new home and spending loads of time on college work since I wish to finish college 2 month earlier.
The Easter break started , but for me it just mean I have so much to do! I do promise to post as much as I can though.
So here we go , I thought I will share with you my favorite leave in products for hair that I do not imagine living without. Maybe you will find them interesting and worth testing out :)
I actually spotted it in Tenerife for about £4 I think , but I am not sure if it will be able to purchase it somewhere online since I bought it in local pharmacy. I really need to find it once I will run out!
It is basically keratin in liquid as you can guess and promises to leave hair stronger, silky , give more volume ,look more healthy etc.
And for me it is a big miracle. I spray it all over my hair when hair is still damp and just leave it in .
I have notice that if I will not use it there is a massive difference in my hair.
After using the product my poor damaged hair is silky,shiny ,looks healthy and seems to build nice texture again. ( If you wonder why I am saying my hair is so damaged is from all the experiments I have done so check my hair history post
HERE
)
I really recommend this product or something with similar that includes keratin.
2.AUSSIE Dual Personality ANTI-FRIZZ=conditioning milk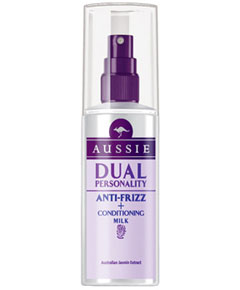 So this product is something I do not use on daily basics but about 3-4 times a week.
The description says to use about half a palm or a bit more depending on hair length and work into hai wet or damp , then come through and blow dry.
I use about 2 pumps and go roughly through the hair and just leave it in. I feel like it really does condition my hair but I realized if you use to much it just makes your hair looking greasy. Overall it does make my hair look softer more fresh and helps with styling a lot.
3.VO5 curl defining mousse
This is a heat protecting , curl defying mousee I totally adore. I used to curl my hair a lot before deciding to give my hair long break from heat and I loved it . It protected and made my curls looks fab and last all day and night , literally. If your looking for that kind of effect then go and purchase it !:)
4.AUSSIE DUAL PERSONALITY colored hair protection + shine serum
This products says it adds gloss to your hair and supposed to enhance hair color.
I am not sure about that , but I found it really great to put on the ends of my hair to keep it less frizzy and give the hairstyle polished finished look.
So these are my 4 products that I really like using and noticed the difference in my hair . I have also loads of hair mask and stuff do use while in shower that made a huge difference in my hair but that is for a different post.
Hope you are all alright .
xxx
suzanne marie